WordPress is not only a great blogging platform but its also a great Content Management System is well. Web Designers love to use WordPress as the CMS because its easy to use. Clients can use the WordPress Dashboard as their admin panel and they can use it without any problem. You can create almost any kind of website on the WordPress Platform. In this article I am going to showcase the best WordPress Recipe and Food Themes. These are ideal themes for creating restaurant websites. Do share this article with your friends to help us spread the word.
You might also like
WordPress Recipe And Food Themes
Sweet Cake – Responsive WordPress Theme
Sweet Cake is a one page Responsive HTML5 CSS3 Theme for WordPress perfect for your business. The graphic is very sweet and creative, is ideal for bakeries, ice cream shops, restaurants and cake designers but if you want you can change the colors to adapt the theme for all activities. In the package you will also find sweet icons in vector format. The theme has been designed using the 1200 px grid system with 12 columns.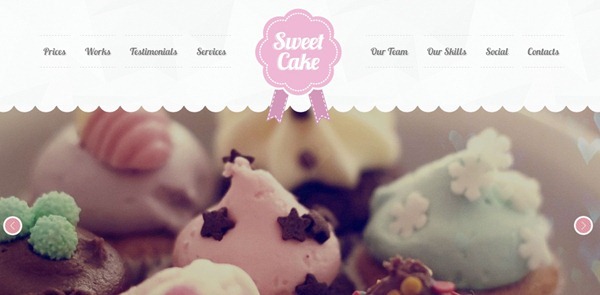 The Kitchen Table: Responsive Recipes WP Theme
The Kitchen Table is a super simple recipes theme for WordPress. Using built-in features of WordPress, The Kitchen Table is super easy to manage and control using the theme customizer.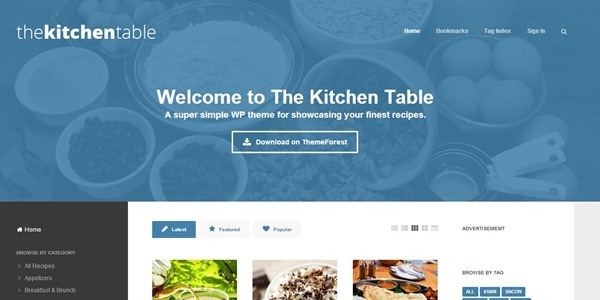 Oishi WordPress Theme
Oishi is a perfect premium WordPress Theme for restaurants or coffee shops but that's not all, it comes with three beautiful skins, also you can adjust the appearance to fit any business, it comes with clean and easy to use options.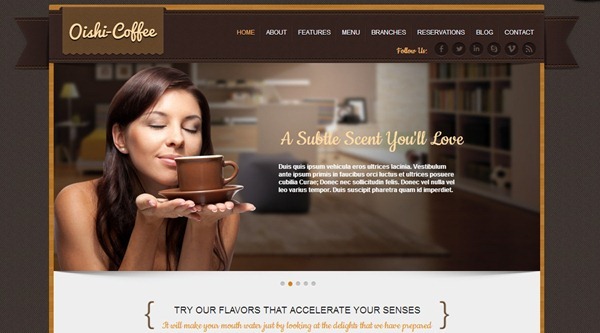 Iron Bull Restaurant WordPress Theme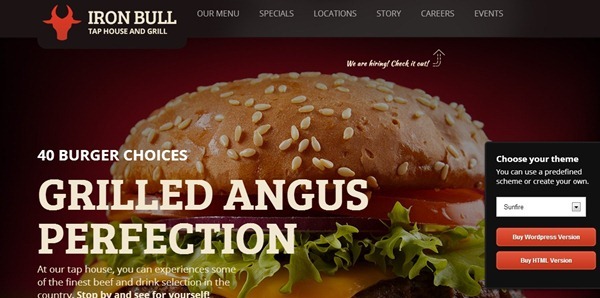 Eldar – Responsive and Retina Multi-Purpose Theme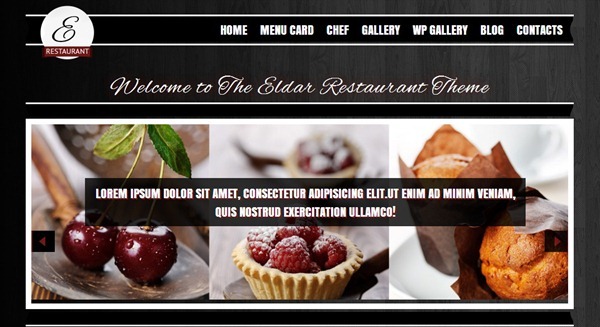 Savory – Responsive Restaurant WordPress Theme
Savory is a responsive WordPress theme for restaurants, diners, bars, pzzerias, coffee shops, etc. The theme comes bundled with the Retail Menu Cards plugin, allowing you to easily create menus using an interface you're already familiar with.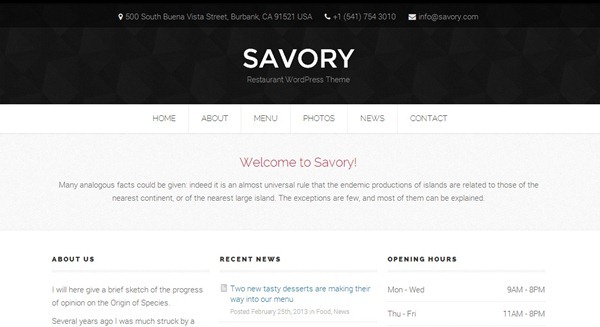 LaMonte – Modern Restaurant WordPress Theme
LaMonte is a modern restaurant WordPress theme. This theme suitable for restaurant, food, cafe, business and portfolio sites.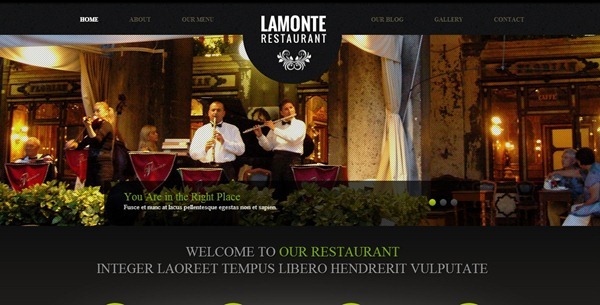 Petit – Recipe WordPress Theme
Petit is a theme full of features. Suitable for a variety of purposes, Petit is best suited for a recipe website. A big, bold, blog-style homepage includes a large featured content area, and Petit's carousel lets users rate their favourite content.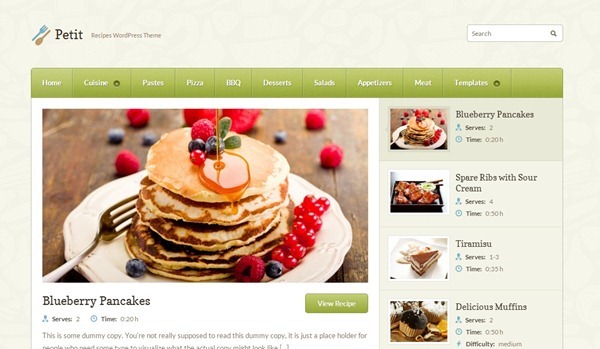 Tasty Crunch – Food Recipe and Restaurant theme
Tasty Crunch is a wordpress theme specially designed for Food Recipe and Restaurant websites. This template is easy to modify and ready to be up and running out of the box.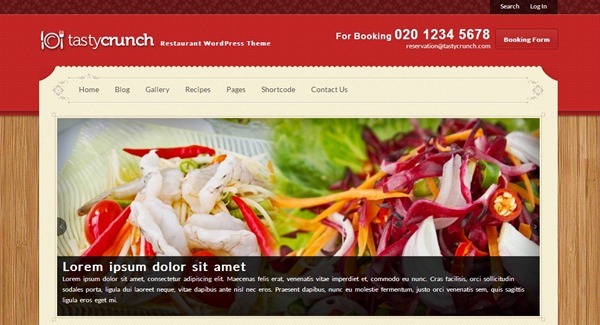 Forkbite – Food Recipe and Restaurant theme
Forkbite is a wordpress theme specially designed for Food Recipe and Restaurant websites.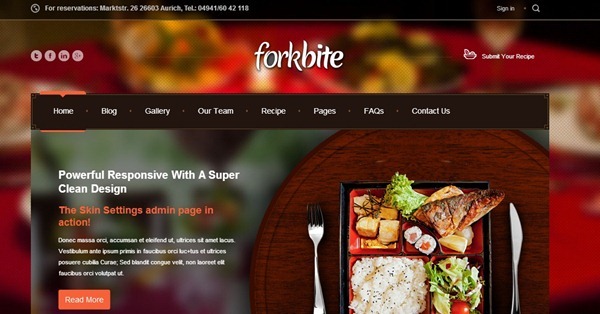 Taste of Japan – Restaurant / Food WordPress Theme
Taste of Japan classy and tasty WordPress Template perfect for presentation of your restaurant, pubs, bars, wineries and other companies offering foods and drinks. Each page has unique layout created to best display data in well organized and visually attractive way.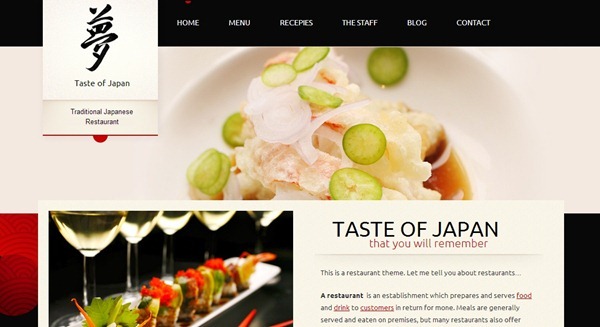 Delicieux – Restaurant WordPress Theme
Delicieux is a super premium theme for retail/restaurant. It comes with very nice and friendly design. This is exactly restaurant website should be. This theme also comes with super extensive admin panel. It has tons of features.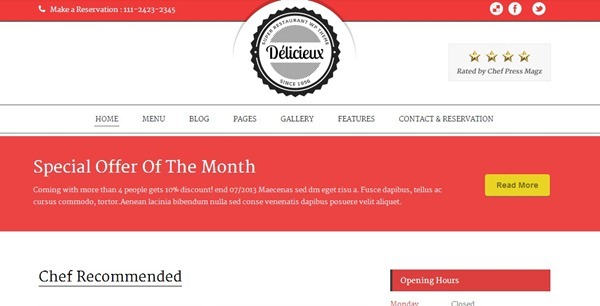 Arapah – Modern Culinary WordPress Themes
Arapah is clean, simple and fresh wordpress theme. Designed specifically to meet to many kinds of business projects.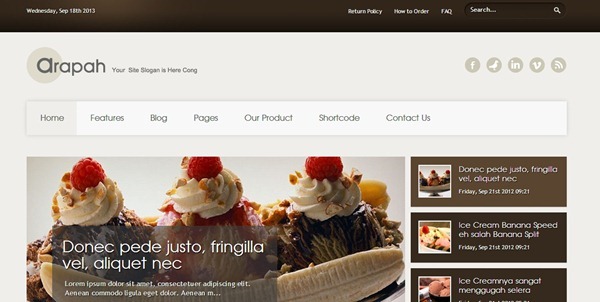 Delicioso WordPress Recipe Theme
Delicioso is a beautiful recipe theme for WordPress. It offers the user an easy way to create a recipe site and includes a bespoke delicious design, custom widgets, unlimited sidebars, a theme options panel and more!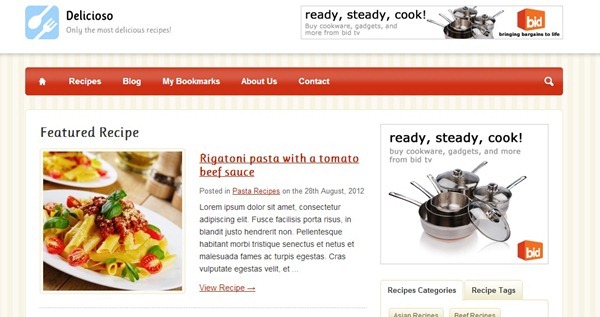 Ristorante Responsive Restaurant WordPress Theme
Ristorante is very modern Specialized WordPress Theme for Restaurants, Bars and Caffes. Fullscreen design with Fullscreen Slider allows you to show nice restaurant premises or tasty food. You can also use Food Menu Generator to create professional looking daily menu or À la carte in seconds.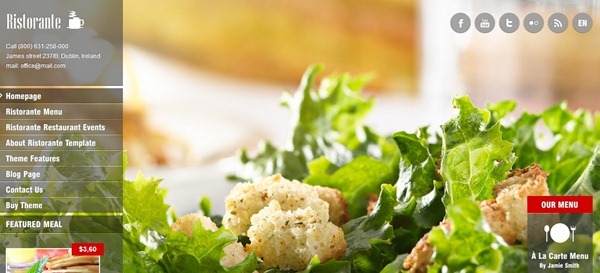 Ingredients – A Fresh Recipe WordPress Theme
Ingredients is fresh looking WordPress theme made especially for people like you wanting to showcase your delicious recipes with friends and everyone on the web! Choose from an unlimited variation of colors to use for all the colored elements (such as links, buttons, etc.) using the color wheel in the custom theme options panel.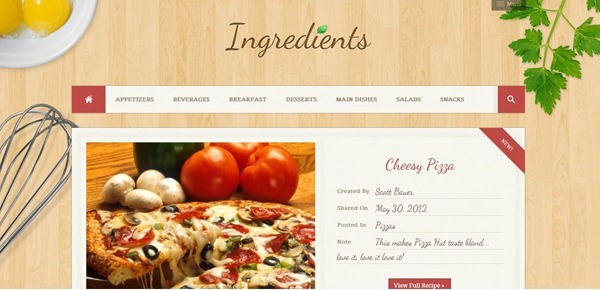 Food Recipes – WordPress Theme
Food Recipes is a feature rich and beautifully designed WordPress theme for recipes websites. This theme is perfect for professional Chefs and Cooking Experts. Food Recipe WordPress theme makes it very easy to share cooking knowledge with complete information and videos support.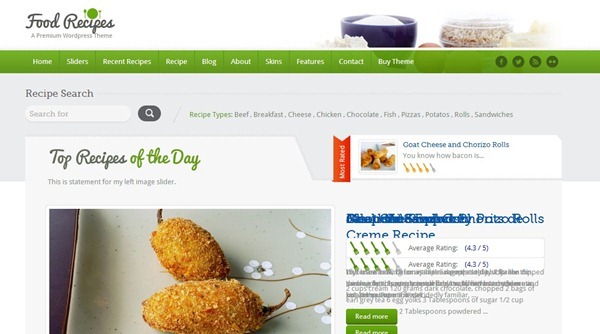 CookingPress – Recipe & Food WordPress theme
CookingPress is a WordPress theme for foodies. This recipe theme will let you share all your recipes and cooking tips with wide audience. It's one of the first WordPress recipe themes with support for Google Recipe View. What does it mean? it means that your blog will be understand not only by people, but also by search engines.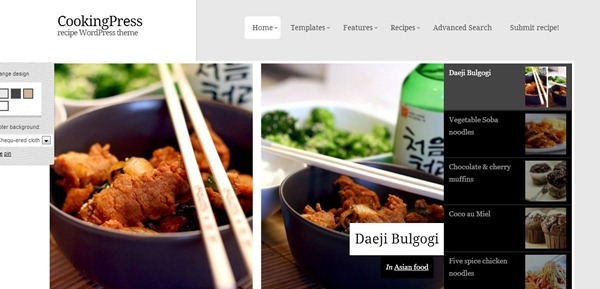 WordPress FoodMe Restaurant Business Theme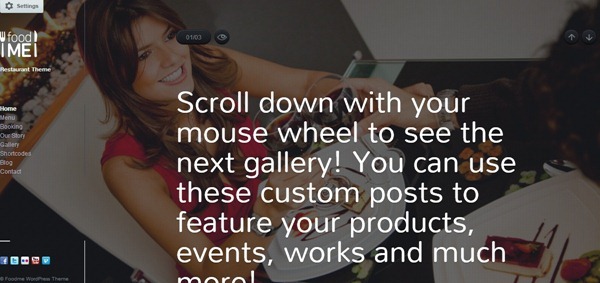 Time for Food for WordPress
Time for Food is a beautifully designed WordPress Theme for all you foodies. It can be used to share recipes or just write articles based about food.