Tumblr has changed the face of blogging since its introduction. Tumblr is a micro blogging platform that lets its users to share images, videos and other multimedia files with their blog visitors. A portfolio is a great way of displaying your work. Tumblr can be ideal for your portfolio platform. It has so many options that makes your portfolio look stand out in the world.
Tumblr has become so much popular in very short period of time. If you look at the number of blogs hosted on Tumblr, it will surprise you. More than 110 million blogs are hosted by this amazing and user friendly blogging platform.
You might also like
100 Best Free Tumblr Themes To Give Unique Look To Your Blog
350 Best Free Tumblr Themes : 2012 Edition
200 Best Free Tumblr Themes For An Amazing Blogging Experience
Tumblr Portfolio Themes
Depth of Field is a fullscreen photography theme for Tumblr. It's a great way for photographers to showcase their portfolio in a breathtaking way. Nevertheless, this theme also supports all the other Tumblr post types, meaning that you can also post galleries, videos, audio tracks, quotes, chats, links and normal text posts. Check the live preview for examples of how each post type looks like when using this template. In addition, this theme also supports the submit and ask post types.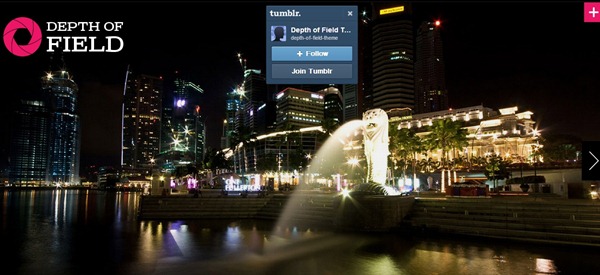 Scope is a responsive showcase theme that allows you to show off your work in all its glory.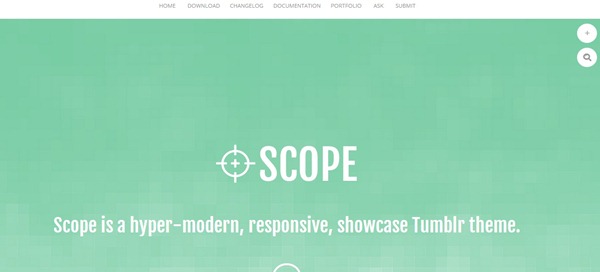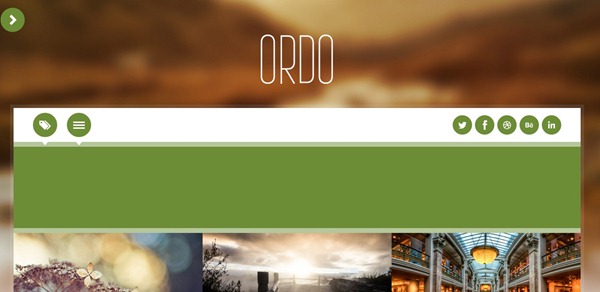 Gridly is the perfect tumblog template for you to showcase your work or transform your blog. Gridly is a light & simple template that comes with lots of options & functions to show your content in style. It is fully responsive & features a beautiful and easy to use post filter system.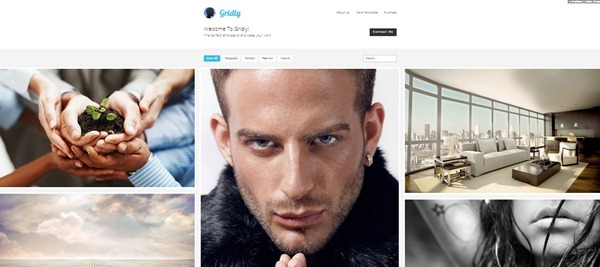 Agency is a beautifully minimalistic multi­purpose theme, free from gimmick and trend, making your talent the focal point of your portfolio. Present your work in a professional manner with a timeless design.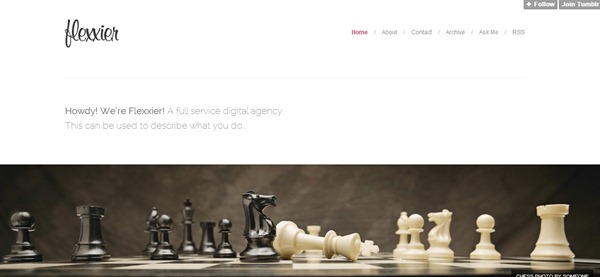 Museo is a Bold & Beautiful Responsive Tumblr Portfolio Theme.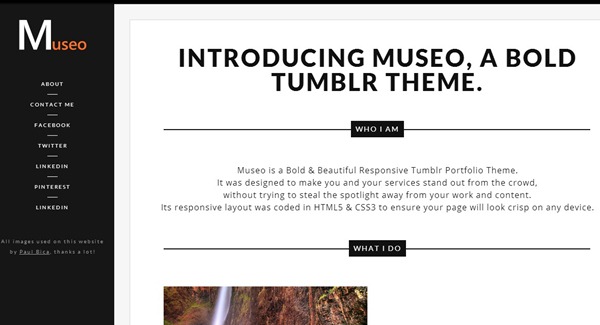 Photographica is a portfolio Tumblr theme aimed for photographers and other creative professionals. It's versatile and easy to customize.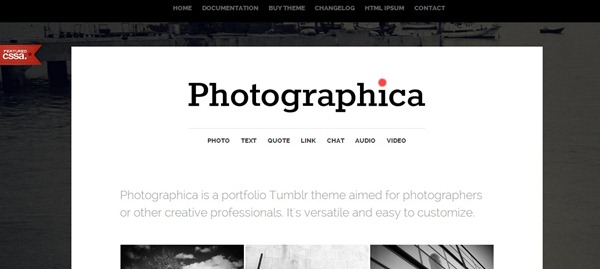 Saga is a Tumblr theme that have virtual card concept to showcase a personal portfolio with simple and elegance design. Saga theme is suitable for anybody who want to display their portfolio or work activity with professional.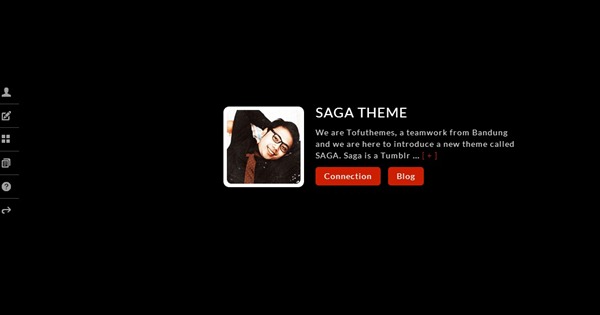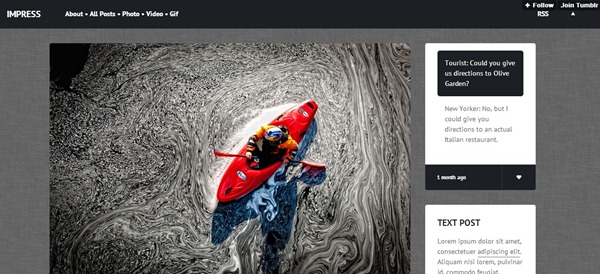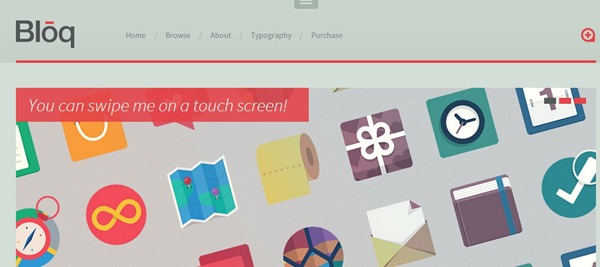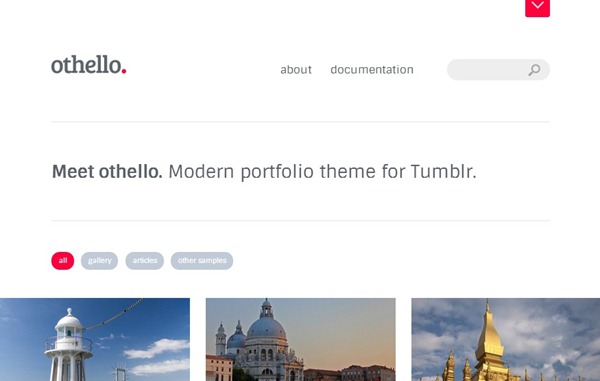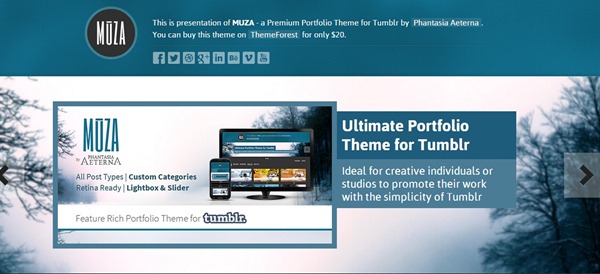 The Catalog is a simple yet very complete Tumblr Theme focused on getting all your photos, text, videos, audio in a catalog-like format. All posts are showed as thumbnails and you can see more by clicking them. It's a responsive theme that works well in different screen sizes. It has a slider that fetches posted photos based on a special tag.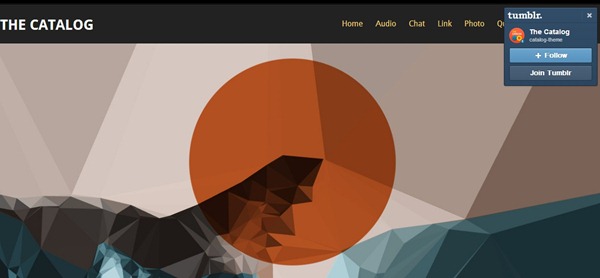 SUPPLE is a versatile portfolio theme for Tumblr by Pixel Moxie. SUPPLE is aimed at creatives—designers, illustrators, photographers, video artists—and allows you to display your work in a grid-like fashion, flexibly enough so you can define the aspect ratio of your thumbnails: from landscape to portrait, including square and anything in between.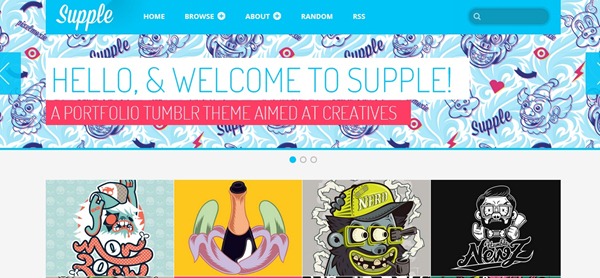 Athens theme is perfect for normal blogging, portfolio, entertainments and everything you want to use it for. This theme is useful because is customizable and responsive.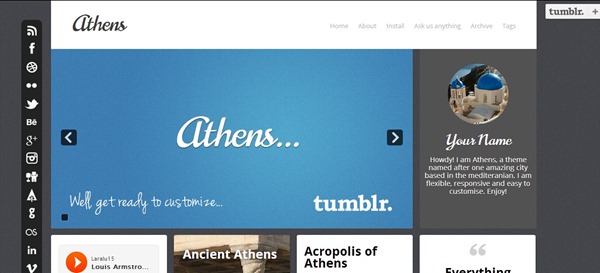 Pop Gallery is a Tumblr theme for visual portfolios, galleries, handcrafts shops, with the unique possibility to present distinct thumbnails for new, sold and reserved items. It has a beautiful and clean design with circular thumbnails.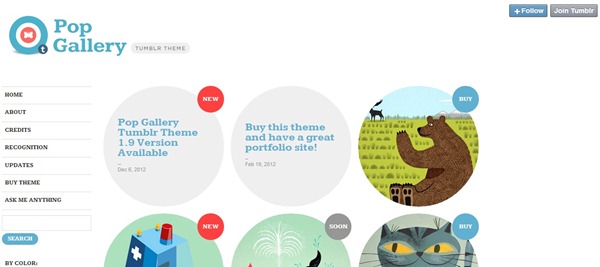 Vision is perfect for any level of designer, developer and blogger. It's so easy to install it only takes a minute with the help of my instructions file and video walk through.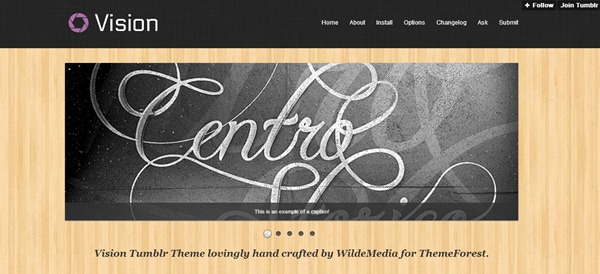 Cleanfolio is a premium tumblr portfolio theme designed to be as clean as possible in order to let your work take the stage.