Do you want to get your hands on not just few hundreds or thousands but millions and more specifically 20 million fairly priced stock photos at just one platform? Yes, you want. After all, why won't you, as thanks to Depositphotos.com you will enter a fascinating world of original, captivating and awesome images which will make you go "wow" for sure. Isn't it great?
Since, accessing as well as managing photos isn't an uphill task any more as you are fully assured of 100% ease and comfort with Depositphotos Adobe Extension.

I have several points to authenticate the same as well in the Depositphotos Adobe Extension Review. Since, it is creating a wave of popularity and attraction amongst one and all.
There are following series of features which are directly related with its popularity:-
· Previews help us a lot towards ascertaining their immense utility since it gives us a sense of idea whether we should go with the certain thing or not. Same is the case with Depositphotos Adobe Extension where the image preview lets you ascertain whether it is at par with your project or not. Therefore, you can save yourself even before, from any sort of inconvenience much to your delight.
· You don't have to go through the tiring and inconvenient process of saving the downloaded images on the hard drive as you can easily drag and drop the downloaded images. Now, it is so easy to create a never-ending and awesome collection of personal images so that you can use them whenever you want in your projects. Your work will speak volumes about the hard work, creativity and style and you will continue to scale up as well.
· Pictures speak thousands words and with Depositphotos you will do full justice to your work by making the best use of them with grace and style. Each and every single one of them is synonymous with its own charisma and it is hard to resist them for sure. Therefore, it creates a special and wonderful feeling amongst one and all.
· In such a fast paced life, we want to accomplish the things instantly and Depositphotos works to its potential in giving a "life time" experience thanks to its advanced search features. Furthermore, while you are on your work, it blocks every source of distraction so that you can work with greater ease. Hence, it speaks volumes about endless features which have been a testimony of its ever growing popularity.
Download Depositphotos Adobe Extension
Usage Guide For Depositphotos Adobe Extension:
1. To start working with this extension, first of all enter your buyer email and password at Depositphotos.com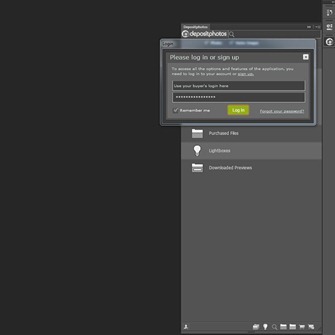 2. Use various search option present over there to search images.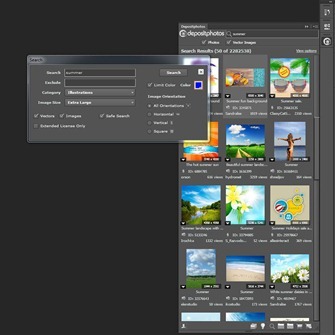 3. Drag your purchases or image previews to the working area of Adobe Photoshop, InDesign or Illustrator.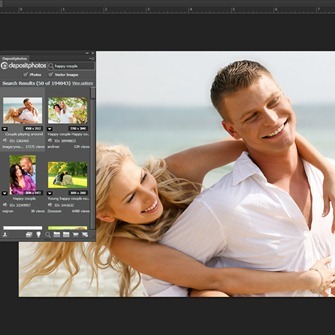 4. The extension automatically stores your purchases, previews and lightboxes.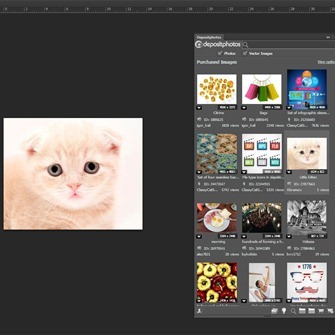 Conclusion
Now, boost your business even further with Depositphotos since words simply can't express the immense utility. Experience it to believe since it is registering a never ending and satisfied customer base where people are progressing to the path of success and you are surely going to be next in line as well. After all, you can't afford to lag behind in such a competitive race and Depositphotos give you a profound opportunity to be in the competition, with its awesome features. Isn't it great?