Designers are all too familiar with the endless stock agency shuffling, or the constant search for high-quality, inexpensive, and relevant images to use in their work. As a matter of fact, professionals invest a lot of time in trying to find the right images for a good price. Wouldn't it be great to run into bargains all the time, and save both time and money? The answer to that question is obvious, and I know what can make it real.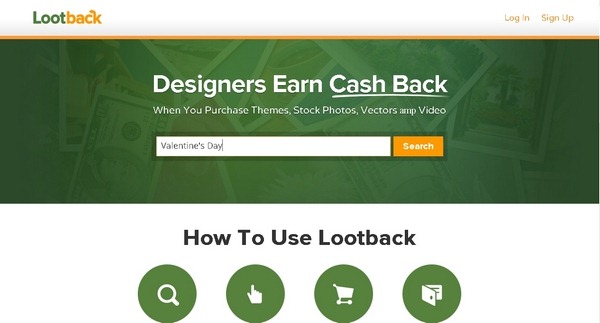 I've stumbled upon Lootback just recently, and it changed the way I look at stock photos for good. Essentially, this service offers to play the role of an aggregator: when you initiate a search, it will round up exact and similar matches from several of the most prominent microstock merchants on the market.
In exchange for creating business opportunities for those agencies, a certain commission is released. Now comes the best part: Lootback receives each payment and shares it with the person who acquired the images. The bonus goes by the name of Cash Back, and it keeps coming at you whenever you buy creative assets through this channel.
If circumstances call for images that evoke warmth, love, and harmony, you could type down 'Valentine's Day' as keyword, and allow me to guide you through what happens next. Your results will originate from top-grade partner agencies: Deposit Photos, Thinkstock, Shutterstock, iStock, and Envato's Graphicriver, Videohive, and Themeforest. Tick the boxes on the left that help you focus your findings in a more narrow circle, and exclude agencies or file types that you don't want to see.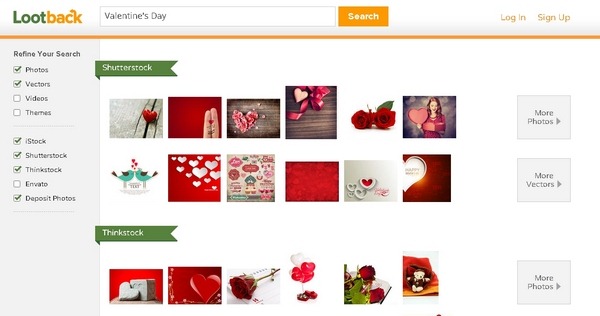 Browse away, and select a stock image that you've decided to purchase. Before being swiftly redirected to that agency, you will be asked to fill in some basic information and get a Lootback identity; this is a crucial step, so don't skip. Afterwards, you will reach the agency in question, and have to use its prepaid credits method in order to get your file (as you are probably used to, by now).

Later on, log in to your Lootback dashboard, and check the section labeled 'Cash Back Earnings'. It usually takes 12 hours for your bonus to appear. With each new transaction, its adjointed bonus is sent in your coffers. Finally, you are able to cash out with your Paypal as soon as the agencies that you dealt with have finished processing your file – which may take any time from 7 to 90 days. In any case, you can be sure that real money is coming your way.
Go on, try this once and buy your images via Lootback – you have nothing to lose.