In the last few years the mobile app market has expanded at an incredible pace to the point where we're now seeing a launch of apps with new and amazing designs almost every day. These superb styles all use the limited space the smartphone screens give them efficiently whilst still retaining a beautiful and unique approach to visuals that makes them stand out against the competition.
We've picked a couple of fantastic examples that you should check out if you ever need any inspiration.
: Blue
First up we have Blue, this nifty little downloadable is primarily used for weather forecasting. What makes it stand out is its unique and minimalistic design. Using a series of coloured bars to reflect the current conditions from temperature, time and humidity it's a stylish and modern take on the standard weather app.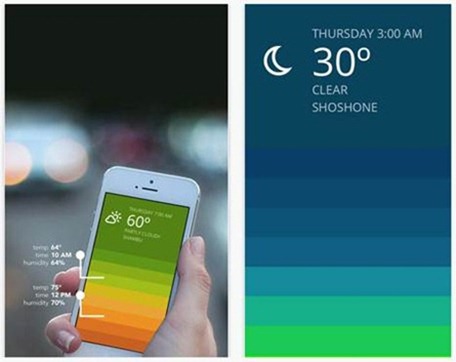 : Lightbridge Projects
This fantastic productivity app uses a series of tabs and coloured bars to let you create your own personal 'To-Do' list. Plus each colourful bar can be slid to one side to attach files or modify further. It's a trendy and upbeat approach to design that lets you add a little flair and fun to an otherwise dull schedule.
: Smart Home
If you want a great example of a complicated app that's been simplified then the Smart Home app is one not to miss. With a series of dark squares that all correspond to things in your house you can controls from the heating, power, lights in different rooms, locks, sound systems and security it's home control simplified.
There's also a little to no text to read which makes the app feel spacious and gives it this simple yet entertaining science fiction vibe to it.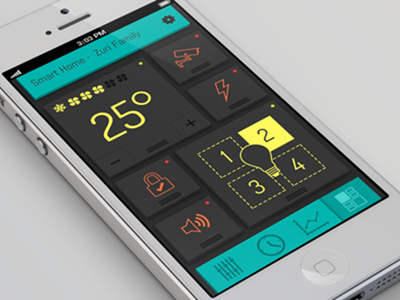 : Ski Buddy
This extremely pretty downhill skiing mobile app uses cold colours and solid bars to let you know about the current temperature and what your downhill ski track time is, which works well with its skiing theme. It also uses a shadowy image of your current location on the downhill slope as well as your speed in a contrasting colour to make it stand out.
:-Paddy Power Mobile
Although the mobile casino genre covers literally thousands of apps and sites this one is a standout amongst them as its design is fantastic. Using a slimmed down version of the popular gambling brand this app features a basic black and green colour scheme and a series of subtle tabs that gives it a modern twist that makes it look extremely unique.
Although if that mobile app doesn't sound appealing you could find a few other great mobile compatible sites to check out by using a review sites as they have a pretty large selection of sites to see.
So in the future if you ever find yourself struggling for design inspiration then you could try checking out a few of these stylish apps to get your creative juices flowing again in no time at all.