Do you love web design, or know someone who does? Whether it's a girlfriend, cousin, co-worker, or hard=working employee, any web designer will go nuts for these mugs. Perfect for a birthday gift or a fun surprise any day of the week; give your favorite web designer the give of inspiration and their coolest coffee break ever.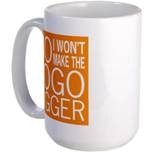 1. No, I Won't Make the Logo Bigger
Your web designer's favorite phrase can now be displayed defiantly across his or her coffee mug. This basic white mug has the words "No, I won't Make the Logo Bigger" over a square orange background.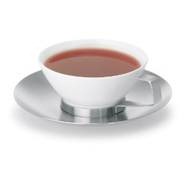 2. Metal tea cup
A delicate Asian-inspired tea cup is perfect for a green tea pick-me-up in the morning or an espresso in the afternoon. Made of stainless steel, the contemporary structure will wow any designer.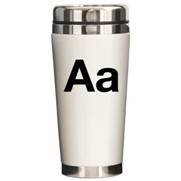 3. Helvetica Travel Mug
Say the word Helvetica to any web designer and their reaction will tell you how much they would love a mug with Helvetica lettering on the front. This mug features a double "Aa" in the widely-recognized typeface, Helvetica, one of the most balanced and beautiful of all time.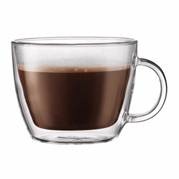 4. Bodum Bistro Double Wall Insulated Glass Mug
This is the classic, glass coffee mug any creative professional would appreciate. If you know a graphic designer who doesn't already have one of these mugs, pick one up, and they will thank you for making aesthetic improvements to their daily coffee routine.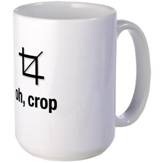 5. Oh, Crop
Pretty cute play on words, and your beloved designer will be all too familiar with anger and frustration connected to their own crop tools. For a chuckle, check out this web design inspired mug.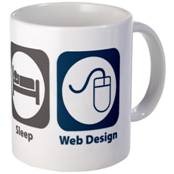 6. Eat, Sleep, Web Design
As any designer knows, love for design also comes along with perfectionism and long nights hunched in front of their Mac. Here is a nod to that truth in this "Eat, Sleep, Web Design" mug.